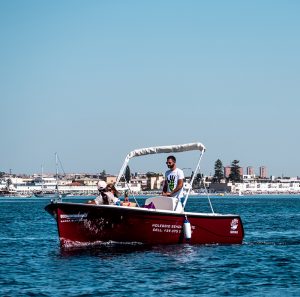 An unforgettable experience just minutes from the center of Cagliari

Our E-boats are comfortable, spacious, sturdy, particularly suitable for navigation at sea. They have an autonomy of approximately 8 continuous hours at a max speed of 6 knots and can accommodate up to 7 passengers including the driver.
They do not need a boat license and the video tutorial on this page provides all the information on the functionality of the boat and safety at sea and in port, the basic concepts of coastal navigation.
The video tutorial is not optional, it is part of the contract, therefore the E-Boats staff will show you the video before renting the boats. However, you can ask us for any further information at any time.
The long range of the E-Boats allows you to reach the places indicated on this page and in the navigation map that will be delivered to you upon departure upon boarding at the Marina Piccola port or that you can download from the links below, through the which you can also view the latest legislation issued by the Cagliari Coast Guard.
NAVIGATION MAP AND SAFETY COAST GUARD DOCUMENT